A wedding day is supposed to be an extremely special occasion for couples. Some people take months to years of planning for venue, decorations, flower arrangements, food, and the list goes on!. Weddings signify the epitome of love and also to bring the union of two souls (some people practice polygamy and that's fine) who will and should be devoted to each other until death (okay sorry I'm getting a little cheesy here).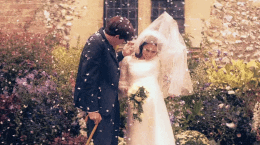 Which is why a wedding is supposed to go as planned to avoid any disappointments. But behind the expensive handpicked table cloths, fresh flowers, and custom wedding cake, some people fail to see the bigger picture. A wedding is just an occasion but a marriage is for life. Sometimes the best joys in the world are in the simplest things.
A certain couple proved that you could still have a memorable wedding lunch even if it's just at a KFC restaurant!.
Image via Facebook (Angah Photo)
The couple from Perak had a last minute change of events from originally having their wedding lunch at a fancy western restaurant to eating at KFC after their akad nikah ceremony on 11 February 2021 according to the bride, Nurdiana Amirah Khairil Asnizar (Source:Malay Mail).
The reason was because many restaurants were still closed or only allowed takeaways despite it being the second day that dining-in was allowed by the government under the current MCO.
Image via Facebook (Angah Photo)
The couple decided to just have their wedding lunch at a nearby KFC restaurant that was open joined by each other's parents and photographer. Since there weren't many people in the restaurant that day, they didn't get many stares.
Nurdiana was ultimately grateful for their photographer who still managed to take beautiful shots of the couple despite the venue. The photographer Angah Photo uploaded the pictures on Facebook which have since become viral with over 900 shares. Many people praised the couple for the simple wedding lunch.
It's not about where you celebrate, it's about who you celebrate with. Congrats to the sweet newlyweds! May both of you have a happy marriage forever.
Credits to Rojak Daily for the initial coverage.
FOMO much? Follow our Facebook and Instagram for more updates.