Covid-19, a novel pneumonia infection is now the greatest transmittable outbreak in Malaysia, consequently after the 1920's Spanish Flu and the 1998's Nipah Virus. Originated from Wuhan, China, the viral infection was declared as outbreak by the World Health Organization (WHO). Malaysia's pandemic progression evolved with time. With vaccines as the only way out from this, Malaysia is now a step closer to achieving herd immunity. The vaccine roll out in Malaysia began in February 2021 and has achieved almost 70% of fully immunised adult population, at present.
Responding to the surge capacity, the government has been relatively successful in the vaccine administration for public. Entertainment and other public facilities like shopping malls, event halls and ballrooms, university accommodations are being well-utilized in aiding the national immunization program. Malaysians are also cooperative in complying to the safety guidelines set by the government.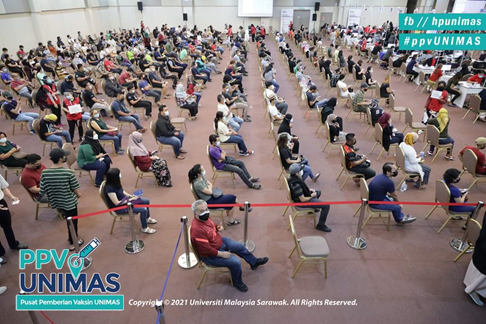 UNIMAS Vaccination Centre
As Malaysia is renowned for its preparedness and response to the pandemic, we couldn't have made it to today without our beloved frontliners. With an array of medical experts executing the vaccination process, have you ever stopped a second to appreciate the voluntary groups of the immunization centres? Relying on sole medical teams might not have been the efficient way to get the whole population of the country to be immunised at a faster rate.
Presence of volunteers at the PPV centres have boosted the inoculation rate effectively. Runners, vaccinators, usherers, registration personnel, different profiles different jobs but one goal; 'Demi Malaysia'. Unsung heroes, they are. Endorsed by the Youth and Sports Ministry of Malaysia, the Malaysia Vaccine Support Volunteers (MyVac) initiative had some 80,000 individuals registered for the volunteerism opportunity in March and of the total, 4,500 volunteers were assigned to 332 vaccination centres, nationwide. The MyVac initiative requires volunteers aged above 18 years and ones with good health. Meanwhile, individuals with medical background may be offered a healthcare volunteer position, subjected to the Annual Practicing Certificate (APC).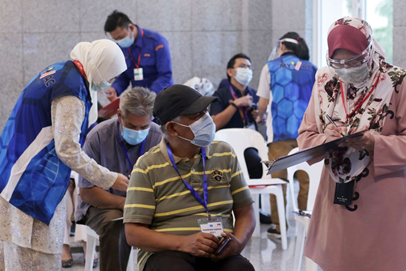 Vaccination in one of PPVs in Malaysia.
"Only a life lived for others is worth living", says a famous quote. Well, that is volunteerism in a nutshell. PPV volunteers in Malaysia, remain a topic which is not much discussed by many. Team MYC! have decided to step forward to capture some valuable insights by our fellow vaccine volunteers, throughout Malaysia. Hafiza Othman, one bold beautiful lady who had shared her experience on how it felt to be a PPV volunteer, was one wholesome engagement we had.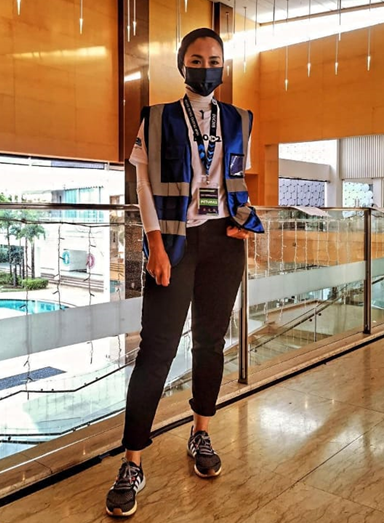 The tall and beautiful Hafiza.
The former staff of Malaysian Airlines told Team MYC! that she had a splendid experience being a PPV volunteer as she made new friends, met new people with various attitudes and background, spent her exciting days performing volunteerism at the Sendayan PPV centre.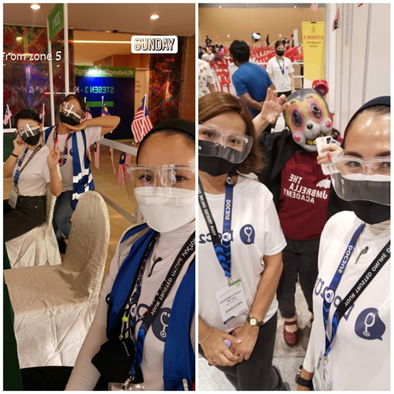 Hafiza with her new friends.
Meanwhile, Sarfiza Othman addressed herself as Fiza, an independent property agent also talked about her days of being a PPV volunteer at UNIMAS. "Driven by my own profession, providing services to the public, is why I chose to become a volunteer", said Fiza. Also being a staff of UNIMAS herself, Fiza was highly eligible to become a volunteer at the designated facility. Generally, PPV volunteers are divided into two categories, healthcare volunteers and non-healthcare volunteers. Most volunteers shall be assigned to carry out ushering tasks, registration errands, observing vaccinated individuals for a specified time.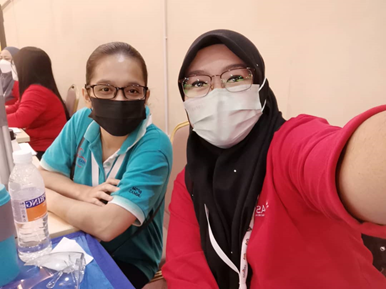 Dedicated Sariza at the UNIMAS PPV.
However, that is just what we see on the surface. "We have to work for long hours, spending most of the time standing and assisting the vaccination process", says Hafiza Othman during her days as a volunteer. She added that the voluntary work begins in the morning which that she shall report duty as early as 8 am.
Saying that volunteerism is also an elaborated version of public service, the volunteers at the PPV centres are highly opened to encounter various experiences. Lucky, if you've got no harsh experience. Volunteers Sarfiza and Hafiza collectively extended their fortunate feeling on not facing crucial situations, throughout the volunteering process. "I am fortunate to have no crisis-handling during the period but admitting that we will face all kinds of human behaviours, that is part of the challenges we have to deal with", Sarfiza quoted. Both ladies expressed their gratitude for being able to work in exciting places and guide through people in one of the most important events of their lives.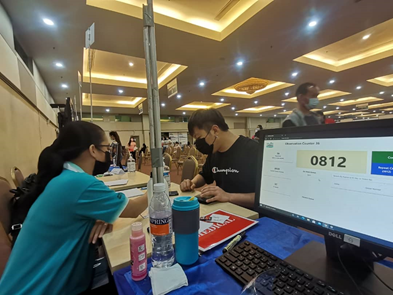 Registration counter at the UNIMAS PPV.
Notably, most of the volunteers at the PPV centres are from the youth community. With evolving responsibilities and commitments, these lads opted to shower love and kindness to the people through volunteerism. Servicing at UNIMAS over a decade, Sarfiza manages to swim against the tides where despite the challenges, with or without the pandemic, her goal is always to be kind, polite and exhibit compassion in her duties as a volunteer and a customer service officer. "I love what I do", said Sarfiza.
On the other hand, the former staff of Malaysian Airlines (MAS), Hafiza Othman quoted that her love towards the people at the vaccination centres was also an application of her experience as an ex-flight crew. "I treat the people I see at the inoculation centres just like my friends and family, based on my previous journey", Hafiza added. Patience is a virtue and flight attendants are one notable example serving love and kindness despite dealing with individuals from different walks of life.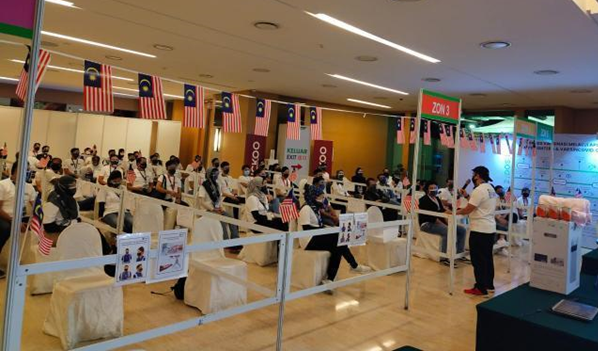 Sendayan PPV centre.
Tied with abounding commitments and responsibilities, the volunteers steadily welcome the tasks with open arms. Earlier in June, a 22-year-old multimedia undergraduate regarded his volunteerism at the Axiata Arena Bukit Jalil vaccination centre as an invaluable experience. Renowned singer and actress Daiyan Trisha also spoke about her contribution as a PPV volunteer. She was grateful to lend a helping hand for a better future of Malaysia.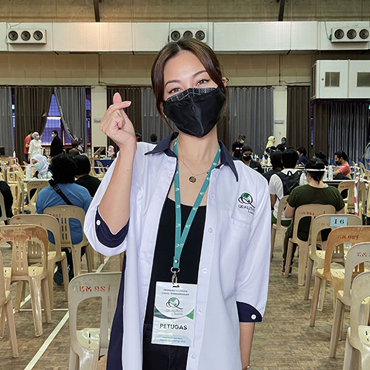 Actress Daiyan Trisha added being a volunteer helped with improvment of her mental health.
Hafiza Othman in her conversation with us also said that she has an overwhelming flow of chores but chose to spend her time in volunteerism as she was given a chance to channel her contribution for the betterment of her beloved nation. Former Miss Universe Malaysia Shweta Sekhon joined the bandwagon to appreciate the volunteers on their quick and smooth working mechanism. She even extended her heartfelt gratitude towards the police force and RELA (The People's Volunteer Corps) for uniting to combat the pandemic.
If we were to say that the love of Malaysians towards the nation is the silver lining in the dark clouds, it would be the right metaphorical expression. Despite the hit of Covid-19 pandemic and the current disrupted socio-political climate of Malaysia, it's the spirit of patriotism that the volunteers had demonstrated, contributing to the nation's 'wellbeing'. Our beloved Hafiza and Sarfiza also explained the sacrifices of public/personal holidays they have made to participate in the voluntary works at the designated PPV centres.
The 37-year-old Hafiza share on her juggle with house chores, personal errands, and tasks at the vaccination centres. "I think this is the time for me to give back to the country and of course it has a special place in my memory journal", Hafiza quoted. Meanwhile, being a workaholic by logic, Sarfiza also regards her workload as a hectic one. Together we stand strong for our motherland.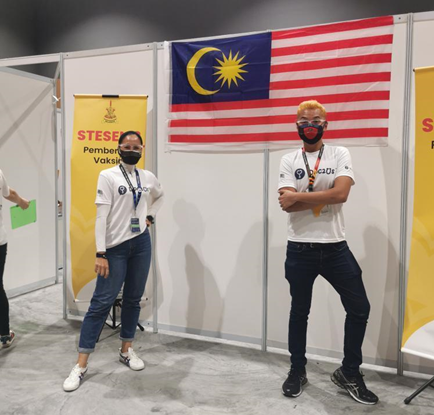 Hafiza with her fellow volunteer at the Sendayan PPV.
When we approached the volunteers to talk about how they spread kindness and love throughout their journey as a volunteer, everyone had similar notions to say. "I treat people the way I want to be treated. So, I guess that is fair enough to explain why I choose to be kind", said Aiden, a 23-year-old nursing student. Elizabeth Tan, a pretty and young volunteer chose to spend her semester break with this noble deed.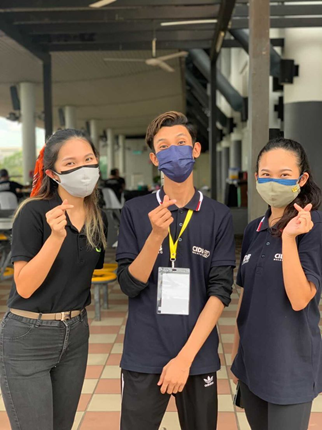 Elizabeth Tan, first from left.
Tan insisted to be kind to the vaccine recipients because she thinks it shall be one's essential quality, especially when you're a volunteer. She affirmed that people would be fearful and worried about the side effects of vaccines, thus as a volunteer, she believes kindness could uplift their emotions and distract them from the fright.
Designated at the IIUM PPV, Azliza Ain shared her thoughts on kindness in volunteerism too. She told MYC that, everyone deserves too be vaccinated according to the governmental policies, hence volunteers shall act out their duties with love and kindness regardless the recipients' age, gender, financial status, language, educational background, etc. "Kindness is universal, and everyone understands it", said Azliza.
Although volunteerism is a tiring task, our fellow volunteers enjoyed the process and even shared their unforgettable experiences with us. "My unforgettable memory was probably meeting a recipient who wore a Micky Mouse mascot and hilariously some even attended the appointment with full PPE suit (Personal Protection Equipment)", said Tan about one of her entertaining days at the CIVac @ Panasonic Stadium Shah Alam.
Meanwhile, Aisyah, a PPV volunteer at the HCO-B, PPV Stadium Nasional Bukit Jalil, quoted that her experience as a volunteer was among the good days of her life. "One of our small projects during the volunteerism period was crowd funding for vaccinees. There are these two weeks where the non-Malaysians came to get their vaccine and they had to queue since the night before. At times, when we arrive at the PPV centre, there would still be foreigners patiently waiting to get their jabs. Due to a longer wait, by the time they reach the vaccine station, some of them would be shaking or even pass out of tiredness and hunger. So, we chipped in some money among the volunteers, doctors, vaccinators to buy food for them", said Aisyah about her humane deed as a volunteer.
We think that these volunteers deserve applause for spreading love and kindness in all possible ways!
Recently, a video of a multilingual PPV volunteer had grabbed the attention of the netizens. She was praised for her extraordinary ability to converse in various languages to facilitate smooth interaction with the vaccine recipients at the centre. Even based on our personal experiences, most of us would have encountered polite and kind volunteers at the PPV centres. Reflecting well mannered body language and respectful communication skills.
It is a great gesture that Malaysia acquires a coordinated and comprehensive public health system to curb the pandemic spread. We are also very much closer to achieve herd immunity. Vaccination process soon would come to an end as most people are getting their jabs already. However, Malaysia shall undergo a transition in vaccination as the adolescence are now being prepped for their jabs. With much hope, may more volunteers jump into the task force to direct the nation towards 100% vaccinated population. In the meantime, don't you forget to spread love and kindness regardless of wherever you are, the world needs it more.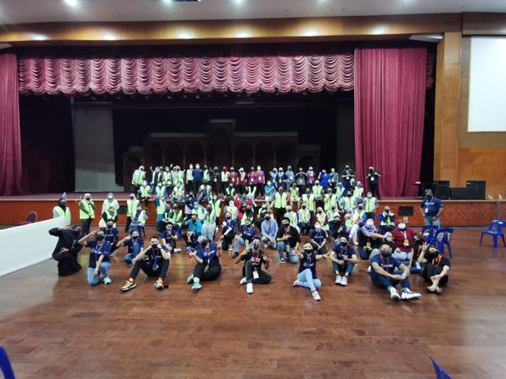 Team MYC would like to extend our heartfelt gratitude and take this opportunity to thank every volunteer, especially the great ones we approached. Photograph credits to respective volunteers.