SENSE & SENSITIVITY
Raise awareness and share your knowledge about cultural issues in Malaysia!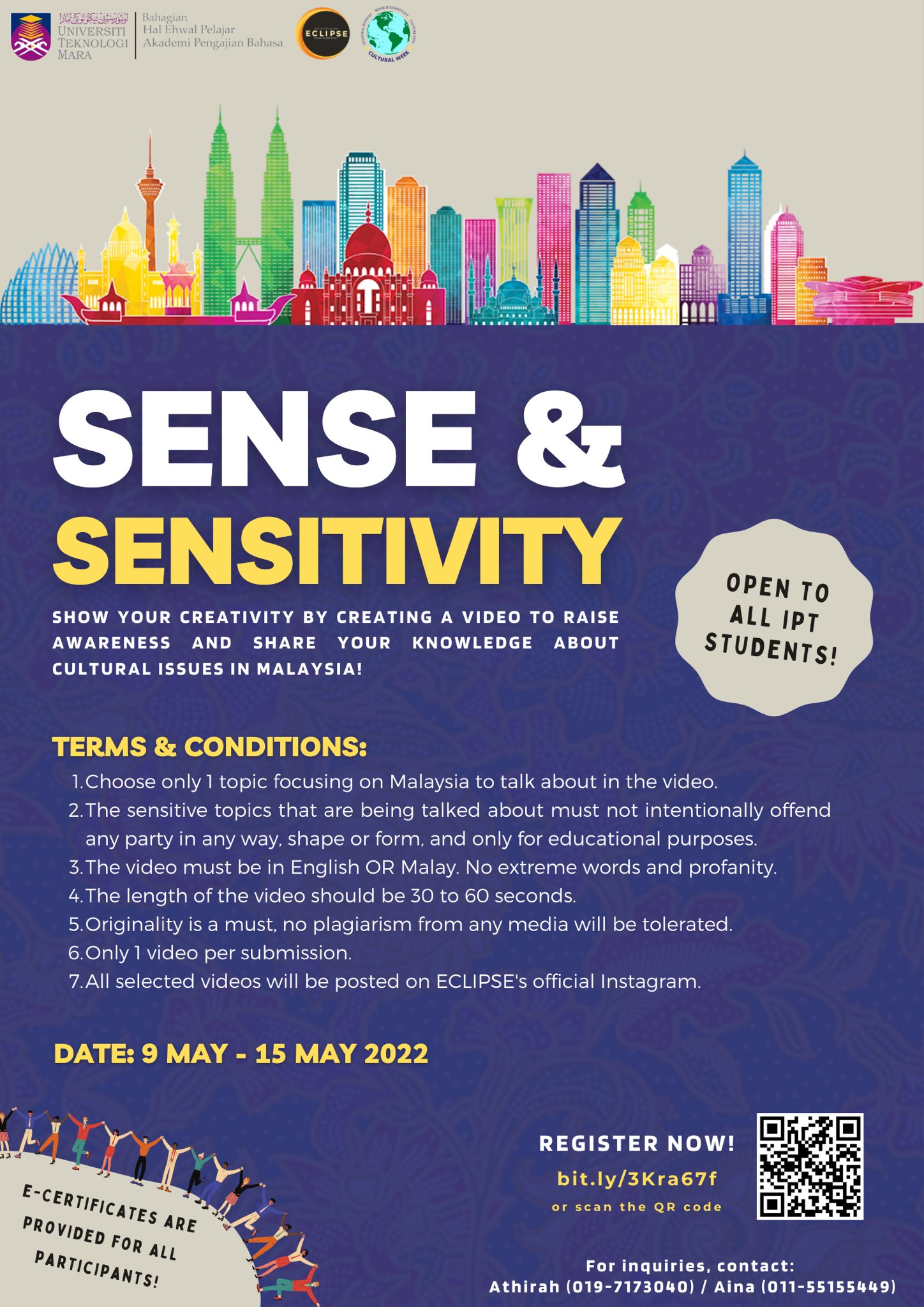 "Jak*n la you!"
"So s*kai"
Do you still hear this among Malaysians? Do you know that these words are inappropriate to be said in that context? How would you tell them it's wrong to say that?
Well, well. This is your time to shine!
In conjunction with Cultural Week, ECLIPSE presents to you ✨ SENSE AND SENSITIVITY ✨
Use this platform to educate Malaysians who are still unaware of cultural insensitivity.
It is open to all ‼️IPT students nationwide‼️
Terms & Conditions:
1. Choose only 1 topic focusing on Malaysia to talk about in the video.
2. The sensitive topics that are being talked about must not intentionally offend any party in any way, shape, or form and only for educational purposes.
3. The video must either be in English OR Malay. No extreme words or profanity are allowed. 4. The length of the video should be 30 to 60 seconds 5. Originality is a must, no plagiarism from any media will be tolerated. 6. Only 1 video per submission.

Interested? 🤩 What are you waiting for? Click this 👉🏻 https://bit.ly/3Kra67f
, sign up & tell Malaysians to be aware of what they say and do 🧏🏻‍♀️
Don't forget to submit your video before 🗓15th of May 2022‼️
📜 e-Certificates will be provided to all participants!
📝 Do note that this is NOT a competition. There will be no winners and all submission will be posted on ECLIPSE's Instagram provided that they do not breach any terms and conditions ‼️
For any inquiries, contact:
📱Athirah (0197173040)
📱Aina (01155155448)